The bi-annual Net-a-Porter sale is in full swing, and in true shop-a-holic style I have had a little peruse. Now, if money were no object I would have done more than simply peruse, but money is an object, one not currently in my grasp, so I have had to make do with window shopping. To make this not seem so completely sad and pathetic, I thought I'd collect all such finds here as a wish-list of sorts – a hideously expensive wish-list, the sort you would have to have more money than sense to splurge on. And with how many gems I found, it seems if I were to have money, I'd have next to no sense…
Ah, shoes, forever my biggest weakness. Truth be told, I saw a lot more that I liked (with a whole heap of Instagram darlings By Far available, who can blame me for making a list as long as my arm?) but I whittled it down to this smattering of black and tan. My favourites are these Ganni slingbacks which I had been eyeing up even at full price. They are also the most affordable option (ha!) though weirdly the exact same pair are also listed for £30 more… I am baffled. I'm also quite enamoured with the glitter version because I am a magpie. Speaking of which, these sparkly By Far sandals are so shiny and impractical and very luckily for my wallet unavailable in my size.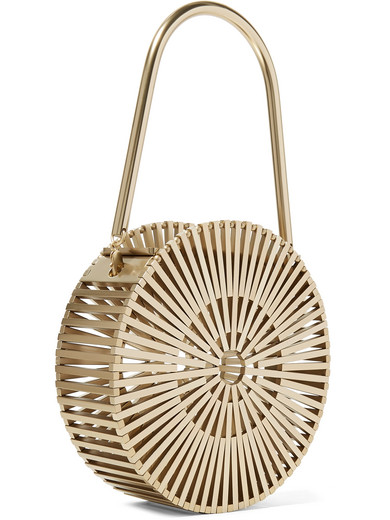 I love the chocolate croc offerings from Staud and the boxy shape of this bag is so wonderfully retro. I never thought I would jump on to the 'rope bag' trend, but I've seen this Alienina one everywhere online and colour me converted – though a considerably cheaper option is currently available from Miss Selfridge, if you are not yet convinced. Finally for bags, I love this round golden offering from Cult Gaia, even though it is so style over substance, you can't deny it looks like a piece of art.
Lastly, I really liked Faithful The Brand's spring prints this year but especially like this red mini dress – it really is the quintessential summer dress in my opinion. I'm also really drawn to this Ganni cropped top and am already imagining pairing it with the Re/Done denim skirt (only in my dreams…)
Now if someone could please hide my purse from me!